2019 FIAF Congress in Lausanne, Switzerland

Calendar of the CCAAA Member Associations' Main Events

2019 FIAF Congress in Lausanne, Switzerland

Calendar of the CCAAA Member Associations' Main Events
Display the events from :
All
AMIA
ARSC
FIAF
FIAT-IFTA
FOCAL
IASA
ICA
IFLA
SEAPAVAA
Number of events listed so far :
3
3
Click HERE to open a new window with a printable version of the list below.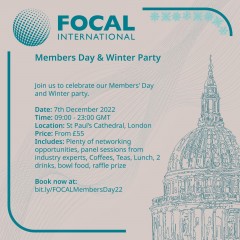 FOCAL Members' Day and Winter Party
07 December 2022
St Paul's Cathedral
London
England
Tickets to attend FOCAL Members' Day and the annual Christmas Winter Party are now available to purchase.
With expert panel sessions, plenty of networking opportunities and exciting raffle prizes, this is not a day to miss!
Further details: https://focalint.
Read more ...

AMIA 2022
07-09 December 2022
Omni William Penn hotel
Pittsburgh, PA
USA
We're getting the band back together!
AMIA 2022 will be an in-person conference December 7-9, in Pittsburgh, PA!
The conference will start on Wednesday morning, ending on Friday evening (instead of Wednesday evening to Saturday afternoon) our plan is to make a portion of the conference available via livestream.
Read more ...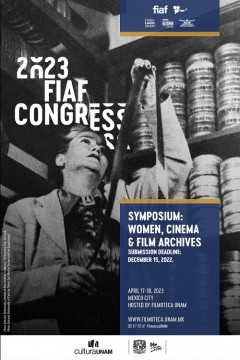 2023 FIAF Congress
16-21 April 2023
Casa del Lago
Mexico City
Mexico
The next FIAF Congress will be hosted by the Filmoteca UNAM and will take place at Casa del Lago in Mexico City from 16-21 April 2023. The title of the symposium, which will take place on 17-18 April 2022, is "Women, Cinema, and Film Archives". The Call for papers of the Symposium is open until 15 December 2022.
Read more ...