2019 FIAF Congress in Lausanne, Switzerland

Calendar of the CCAAA Member Associations' Main Events

2019 FIAF Congress in Lausanne, Switzerland

Calendar of the CCAAA Member Associations' Main Events
Display the events from :
All
AMIA
ARSC
FIAF
FIAT-IFTA
FOCAL
IASA
ICA
IFLA
SEAPAVAA
Number of events listed so far :
3
3
Click HERE to open a new window with a printable version of the list below.

IASA Conference 2021
Closing the gap for a new generation of sound and audiovisual archives
27-30 September 2021
Given the ongoing uncertainties for international travel, IASA's conference will again be held online, from 27th to 30th September 2021. And this year we introduce a new innovation: a series of daily sessions corresponding to different time zones that match our global presence.
Read more ...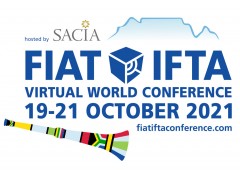 FIAT/IFTA World Conference 2021
19-21 October 2021
After analyzing the global evolution of the covid-19 pandemic, FIAT/IFTA has decided to hold the 2021 World Conference in a virtual environment, but…don't worry we will have a chance to meet in Cape Town in 2022!
We are fully aware that a digital conference does not create the same experience as a live meeting, but it also significantly lowers the threshold for greater participation.
Read more ...

2022 FIAF Congress
26-30 April 2022
National Film Institute Hungary - Film Archive
Budapest
Hungary
We are pleased to announce that the next FIAF Congress, organized by the National Film Institute Hungary – Film Archive, is scheduled to take place in Budapest, Hungary, from 26-30 April 2022. The provisional title of the symposium is "The Visible Archive: Archiving, processing, digitizing,restoring and sharing non-feature film collections".
Read more ...